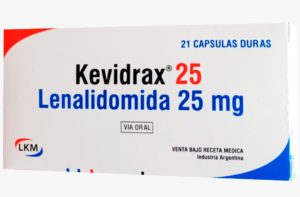 Trade name: KEVIDRAX®
Generic name: Lenalidomide 25 mg
Lenalidomide is considered an "Immunomodulatory and antiangiogenic agent". Multiple myeloma.On monotherapy is indicated in the maintenance treatment of adult patients with newly diagnosed multiple myeloma with stem cell transplant.In combination therapy is indicated for the treatment of adult patients with multiple myeloma (MM) without prior treatment are not candidates Transplant. In combination with dexamethasone it is indicated in the treatment of adult patients with multiple myeloma who have received at least one previous treatment Myelodysplastic syndromes. In monotherapy for the treatment of adult patients with transfusion-dependent anemia due to myelodysplastic syndromes (MDS) ) of low risk or intermediate associated with a cytogenetic abnormality of 5q deletion when other options are insufficient or inadequate. Mantle Cell Syndrome. In monotherapy for the treatment of adult patients with relapsed or refractory mantle cell lymphoma (MCL). Indicated for the treatment of patients with myelodysplastic syndromes (MDS) dependent on transfusions.
Method of administration: It is administered orally.
The following side effects are most common during treatment with lenalidomide: Your white blood cell and platelet levels may temporarily decrease. This can increase the risk of infection or bleeding. Blood cell counts are monitored closely and your dose of medication may need to be adjusted.DiarrheaProteinSunpull Fatigue, fatigue A serious side effect of lenalidomide is blood clots or thrombus and pulmonary embolus (PE). You should seek emergency help immediately and inform your treating doctor. Precautions to be taken with lenalidomide: Before starting treatment with lenalidomide, be sure to inform your doctor about the other medications you are taking (including prescription, over-the-counter, vitamins, remedies based on herbs, etc.). Do not take aspirin or aspirin-containing products unless your doctor specifically allows it. Leralidomide is similar to thalidomide, a medication known to cause serious birth defects. Lenalidomide is a drug that can cause harm to the fetus if it is given to a pregnant woman. This drug should not be given to a pregnant woman or who wishes to become pregnant. If a woman becomes pregnant during treatment with lenalidomide, the medication should be discontinued immediately and the woman should receive adequate counseling. Fertile women will receive treatment with this drug only if they can meet the required safety requirements. The use of two safe methods of contraception is required 4 weeks before therapy, during therapy and 4 weeks after therapy, as well as during periods of interruption. Men (including those who have had a vasectomy) They should use a latex condom provided they have sex with women of childbearing age. The risk for fetuses conceived with semen from male patients is unknown. Do not breastfeed while you are being treated with lenalidomide. The information included on this website is intended to give information about the disease and one of the therapeutic options available, and in no case aims to replace the opinion of the attending physician.