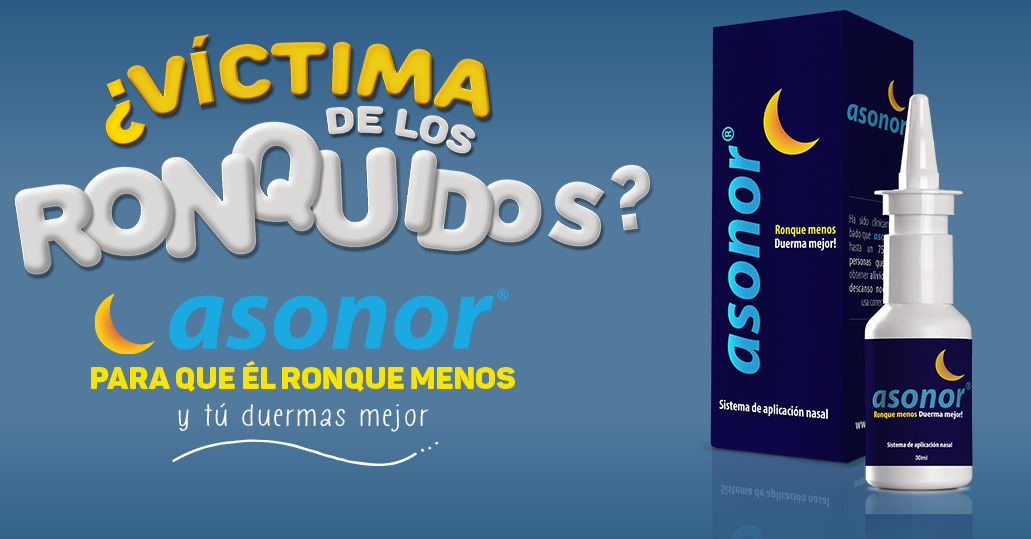 ASONOR®
Anti – Snoring solution.
ASONOR is a nasal spray Anti – Snoring, its action lubricates and slightly tightens the muscles of the throat, avoiding the unpleasant SNORING that is produced by the obstruction of the air.
ASONOR®
MODE OF USE IN 3 SIMPLE STEPS:
Tilt the head back when lying down (preferable)
Apply 4 to 6 pumps  in each nostril (you should feel the liquid in the throat)
Do not eat or drink after applying the product and go to sleep.
ASONOR® should be used every night for better and sustained results.
Ingredients:
Polysorbate 80
Glycerol 85%
Sodium Chloride.
PROVEN EFFECTIVENESS.
3 of every 4 patients find the solution to the problem of snoring. 75% effectiveness According to clinical studies performed for a period of 6 months in snorers patients, it was shown that: 66% of patients use Asonor after 6 months of daily treatment 75% effective improvement in snoring, sleep quality, fatigue and daytime sleepiness.
(1) No adverse effects of any kind were observed. Asonor® is approved by the FDA.
References: (1) Department of Neurology, University State Hospital (Rigshospitalet) (1989). The effect of nasal application of Asonor on snoring And sleep apnea, Copenhagen, Denmark